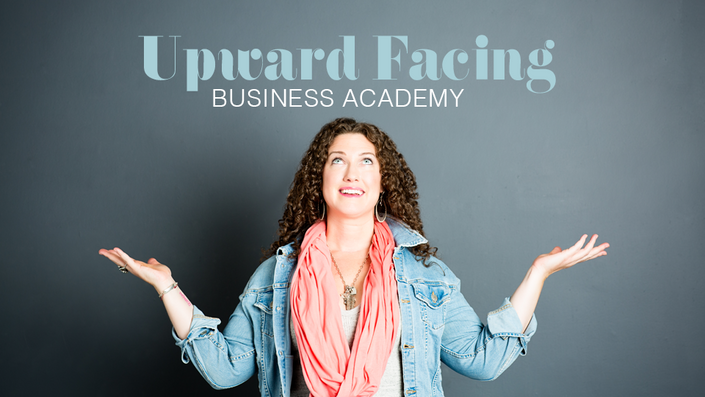 Upward Facing Business Academy
Turn Your Passion for Yoga Into a Thriving Business With the Tools You Need to Create More Impact in Your Career!
Or choose the 6 Monthly Payment Plan for $367/per month
What if your yoga career attracted droves of engaged students, allowed you to make more positive impact in the world, and increased your bottom line?

Want to know a secret? It can.

The elusive goal of a thriving yoga career is attainable with the right strategies and techniques.

The average yoga teacher makes a measly $35,000 per year. That's a lot of hustle for a little scratch. Many instructors spend oodles of hours per week driving all over town to teach umpteen classes...all of which they are underpaid for. It's time to change all that.

Does this sound like you?

You're sick of trading time for money. You don't get paid time off, and so you teach even when you don't feel like it...or worse, when you're sick or injured. A vacation seems like a far off dream, and your bank account says no to basic luxuries like investing in your own self-care.

Not sure how to differentiate yourself from the crowd. Yoga teachers are a dime a dozen these days, which makes you feel like you have to say yes to every opportunity, even the ones that aren't in line with your passion, your schedule, or your values. Creating a niche feels scary because it seems like it would limit you from opportunities.

Using marketing tools to grow your business feels overwhelming. All the social media platforms take up So. Much. Time. And, how do you even know which one is right for you, or how to use it to grow your following? When you compare yourself to how other people are doing on Facebook and Instagram, it feels like you've failed even before you've begun.

You're here because you wanted to live your purpose. But, man, is it difficult. You look around and see everyone engaging in the same hustle, and you don't have someone to show you how to develop your business with the yogic ideals you value so highly. You know you can make more money, but where do you even start?

Start right here.

Or choose the 6 Monthly Payment Plan for $367/per month
6 Monthly Payments of only $367
Take a moment and imagine a new lifestyle where you can:

Infinitely grow your following using social media. Constantly bring (the right) new people into your sphere with tried-and-true techniques that help you share your gifts with the world.

Utilize game-changing strategies to develop your community. By thinking outside the box, and moving some of your business online with courses and classes you are able to reach more people...wherever they are.
Step into the online space before everyone else. The landscape of yoga is changing swiftly. Be on the leading edge of that shift and reap the rewards of owning your own business, creating (and controlling) your own content, and leveraging your offerings for greater and greater success.

Stop trading time for money. Create passive income streams so that your revenue goes up...and so does your free time. Whether it be taking that long-deserved vacation or having reserves for a rainy day, ensuring you have revenue streams is essential to your core stability.
Maintain your yogic ideals while building a thriving business. Your work is valuable. It's time to overcome your money blocks and start earning your potential. Stop giving yourself away for free, and learn to offer valuable content while charging what you are worth. Finally.
Imagine yourself making more impact (and income!) in your career as a yogi!

It is possible to achieve the success you dream of with the right tools and strategies to grow your passion into a thriving business!
This is why I created:
THE UPWARD FACING CAREER MENTORSHIP PROGRAM
This 6-month long journey teaches you the exact skills and techniques I used to attract thousands of followers on social media, add thousands more subscribers to my email list, and generate passive income...the likes of which allows me the comfort of taking time off, having a substantial safety net, and the ability to invest in the exponential growth of my business.

Embarking on this experience helps you identify your tribe, your loyal students and clients that remain engaged with your work and offerings...long after they find you on line and purchase their first course or class with you!

Together, we'll build your audience intentionally...so you find your people and make the greatest impact possible in their lives with your work.


Before I put my entire business online and developed the world's first 500 hour online yoga teacher certification program along with 250 additional hours of higher education courses for yoga, I struggled.

I drove all over creation, eating two meals a day in my car only to be underpaid as I taught umpteen yoga classes per week.
Every year, I made less money than I needed to cover my essential bills, leaving me in greater and greater debt.
With the glut of yoga teachers, I felt compelled to say "Yes" to every teaching opportunity that came my way so as to seem "essential" in the eyes of employers (not knowing it actually made me less valuable to them).
Burn out was constant, but there was no way to take time off without losing my income.

Though I invested thousands of dollars in my training as a yogi, I felt scared to charge what I was worth because of the stigma that spiritual teachings should be free

.
If you resonate with any of these statements...you're in for a radical shift in your perception of yourself as a professional, and in how you run your business.

I'm here to turn you into a yogi entrepreneur.

One who calls the shots, charges what you're worth (and adds tax!), owns your power as the expert in your niche, and utilizes the latest technology to reach the people who love you and make more impact with your gifts as a healer, spiritual leader, and teacher.

It's time to change your strategy, think outside the yoga-studio-box, and create an empire that is all your own. One that works for you, rids you of dreaded burnout, and provides the passive income necessary for you to engage in soul-fulfilling self-care and keep moving your passion forward.

As a part of your 6-month journey in the Upward Facing Career Mentorship Program, you get:
New content every month that reveals essential tools and skill sets to grow your business
Rich video lectures that walk you through important lessons step-by-step
Clear, actionable content written specifically for you, the budding yogi entrepreneur
Swipe files, PDFs, and cheat sheets that give you a head start
Tech tutorials with leaders in the online marketing industry giving you insider information you can use to your advantage
Supportive private Facebook group to interact with other members of the Upward Facing Business Academy
Monthly LIVE Facebook appearances by yours truly where I'll answer all your questions to drill down the next steps in your business and offer you laser coaching on how to confidently make those steps!
Trust me, this is something I wish I'd had when I first decided to put my entire business online!

Without the kind of support provided in this mentorship program, I suffered for years, ran into dead ends, and did way more work than was necessary before I turned a profit.

I want to help you avoid those pitfalls!

Using the exact methods I teach you in this program, I was able to:

Grow my email list to more than 10,000 people
Increase my monthly revenue by 10X (hello, passive income goals!)
Expand my social media following by thousands of people
Put my business online allowing me to scale...and avoid burnout
Offer my passion authentically and in ways I never could in a studio setting
Your Instructor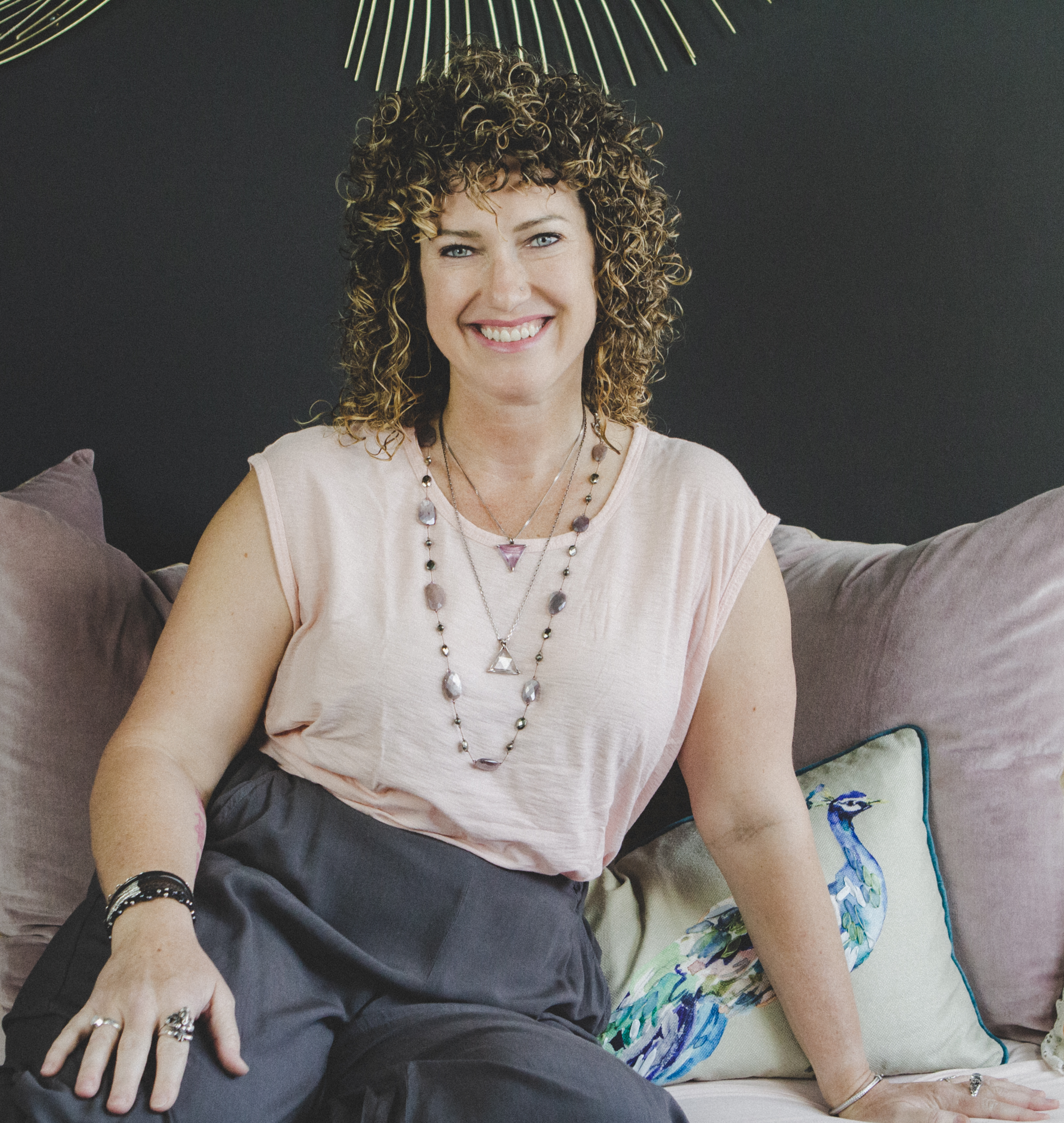 Often referred to as the "Yoga Doctor," Alanna Kaivalya, Ph.D., helps yoga teachers embody their knowledge, up-level their skills and create more impact in the world. She gives you clear pathways to earning a living with your spiritual practice and help others with your gift.

On this principle she founded The Kaivalya Yoga Method®, a fresh take on yoga emphasizing the individual path while honoring tradition. Teaching students since 2001 and teachers since 2003, Alanna has written and developed teacher trainings worldwide for top studios and independently. In 2015, she debuted a comprehensive 500hr-online teacher training.
She holds a Ph.D. in Mythological Studies with an Emphasis in Depth Psychology from Pacifica Graduate Institute, has authored numerous articles and three books: Myths of the Asanas, an accessible practitioner's guide to stories behind beloved poses; Sacred Sound, a yoga "hymnal," illustrating the role of chant and mantra in modern practice. Her third book, Yoga Beyond the Mat, is a guidebook showing practitioners how to make yoga their spiritual practice.
She lives in New York City with Roxy the Wonderdog. Visit her website at: alannak.com.

Course Curriculum
Introduction & Getting Started on the Upward Facing Career Journey
Available in days
days after you enroll
Frequently Asked Questions
Who is this mentorship program right for?
This program is right for anyone who is a yoga teacher, and is interested in making more impact (and more income) in their career. This course is a deep dive into creating a yoga-minded business that thrives. You learn skills to move key parts of your business online, and the tools to create a strong niche, well-branded message, and bring that message to your unique market...all while maintaining the integrity of the yoga principles you adore. If you think "yoga" and "business" don't go together, this program shows you they do...and, when we align our business with our purpose, we find the keys to our own success. This program teaches you practical, technical tools of business and online marketing, while also teaching you yoga philosophy that keeps you on track for greatness on your own terms.
How long do I have access to the program?
Forever! That's right, once you're in, you're in. You always have access to the materials, and can refer to them, or check back whenever you'd like. You also will be privy to any additions or enhancements to the course as I continue to build upon it in the future. **However, if you miss any of your monthly payments, access will be restricted until such time payments are caught up.
Will I receive new content?
Yes! This method of delivery allows us to go through the program together. Upon your registration, you get access to the first module's lessons, and then every two weeks thereafter, you receive the next batch of content. Once content is unlocked, you have access to all the previous information, too. No worries if you fall behind, or need to go at your own pace, this is your journey, and you can make it on your own time.
Alanna, what makes you qualified to lead this mentorship program??
My background in yoga and spiritual studies spans nearly two decades, and I have been leading teacher trainings for 15 years, have written programs for some of the biggest studios in the industry, and founded the world's first (and only!) 500 hour online yoga certification program. I have written three books on the field of yoga: Myths of the Asanas, Sacred Sound and Yoga Beyond the Mat. Beyond my extensive experience as a yoga educator, I have used the exact tools and techniques I teach you in this program to become a successful yogi entrepreneur. I have spoken at entrepreneurial Mastermind groups and conferences about online marketing, and was named as the "Modern Ontrapreneur" of the year by Ontraport.
Do I need anything special to access the program?
Nope! This course is on an extraordinarily user-friendly platform that you gain direct access to upon registration. You get a unique log-in that allows you access to the course at any time, and from any internet-ready device. The videos do stream, so a good internet connection is recommended.
How much time does this mentorship program take?
It really is up to you! If you plan to keep up with the pace of the 6 month program, then it's a good idea to commit 5-8 hours per week to implementing the coursework. Building a business takes time. The more time you are able to dedicate to it, the quicker your journey on the road to success. There is plenty of information in this course, so you are certainly able to spend more time with the material, and also gain support via the Facebook group. Remember, once you join, you have access to the course materials forever. Don't worry if you fall a little behind!
Is there a payment plan?
Yes! I know how hard it is to shell out a chunk of dough, and I want to make this possible for you. You have the option to pay in full for a slightly reduced price, or make payments in 6 monthly installments. Both of these options are available to you upon checkout. By choosing the payment plan, you enter into an agreement that every payment will be made in a timely manner. Failure to complete monthly payments results in restricted access to the program.
How does the monthly payment plan work?
First, you choose the option that is right for you – either 6 monthly payments, or a one-time payment. By choosing the monthly payment plan, your card is automatically billed every month to keep your enrollment active. During that time, you may log on and access all of the courses at any time. However, if you have any failed payments during your payment plan, you lose all access to The Upward Facing Business Academy Program, materials, workbooks, and Facebook group, until such time your payments are rectified. You may update your card information at any time by reaching out to
[email protected]
.
Is there a money back guarantee?
We want you to be happy with your investment, and we want you to give your best effort to apply all of the techniques and lessons in the program. We have a strict 14-day refund period for those who make the one-time payment. Refunds are NOT given for the monthly payment option, but you can request unenrollment within 14 days of registration to avoid further charges according to the following guidelines: To qualify for a refund you must submit proof that you did the work in the course and why it did not work for you. We do not offer refunds for any other reason. If you selected a payment plan option for your purchase, we are not able to stop payments without a proper refund request being submitted. In the event that you discover your purchase does not work for you for a concrete reason, within 14 days of enrollment, contact support at
[email protected]
and request a refund by the 14th day at 11:59 EST. For all the details of the refund/return policy, please see the Terms of Use: https://courses.alannak.com/p/terms