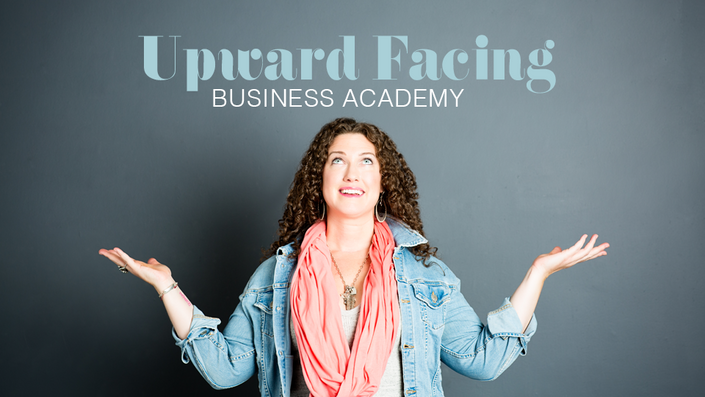 Upward Facing Business Builder Mini-Course
Create the Foundation for a Thriving Online Business With the Tools You Need to Create More Impact in Your Career!
Reality check: As a yoga teacher, you ARE an entrepreneur and small business owner.

While it would be awesome to only teach at a studio...it is not a pathway to success.

Developing your skills as an online yogi-preneur not only boosts your bottom line, it increases your ability to reach more people and make more impact with your gifts!

Welcome to the:
Upward Facing Business Builder Course

You are here to gain the skills to step into your role as a thriving yogi-preneur!

In this complimentary course, you learn:

Clearly define your niche by discovering your true passion ‌
Establish your expertise in the field so that you stand out among the crowd ‌
Understand your tribe and find them so you grow your business like wildfire
Connect with your audience authentically for exponential growth
Create a brand that stands out and clearly defines who you are and what you offer
Entirely new strategies for reaching your audience and monetizing your offerings
Effectively release your money blocks and proudly price your offerings to never sell yourself short
Develop a new relationship to your inherent value
If you complete this course...

It helps you turn the dial on your prosperity and success.
Get ready to turn into a yogi entrepreneur.

One who calls the shots, charges what you're worth (because you are valuable), owns your power as the expert in your niche, and utilizes the latest technology to reach the people who love you and make more impact with your gifts as a healer, spiritual leader, and teacher.

It's time to change your strategy, think outside the yoga-studio-box, and create an empire that is all your own. One that works for you, rids you of dreaded burnout, and provides the passive income necessary for you to engage in soul-fulfilling self-care and keep moving your passion forward.

This is where you begin. Right here.

As a part of your journey in the Upward Facing Business Builder program, you get:
Content that reveals essential tools and skill sets to grow your business
Rich video lectures that walk you through important lessons step-by-step
Clear, actionable content written specifically for you, the budding yogi entrepreneur
Trust me, these are skills you need to create the foundation for success online as a thriving yoga teacher!

Your Instructor
Often referred to as the "Yoga Doctor," Alanna Kaivalya, Ph.D., helps yoga teachers embody their knowledge, up-level their skills and create more impact in the world. She gives you clear pathways to earning a living with your spiritual practice and help others with your gift.

On this principle she founded The Kaivalya Yoga Method, a fresh take on yoga emphasizing the individual path while honoring tradition. Teaching students since 2001, teachers since 2003, Alanna has written and developed teacher trainings worldwide for top studios and independently. In 2015, she debuted a comprehensive 500hr-online teacher training.
She holds a Ph.D. in Mythological Studies with an Emphasis in Depth Psychology from Pacifica Graduate Institute, has authored numerous articles and three books: Myths of the Asanas, an accessible practitioner's guide to stories behind beloved poses; Sacred Sound, a yoga "hymnal," illustrating the role of chant and mantra in modern practice. Her third book, Yoga Beyond the Mat, is a guidebook showing practitioners how to make yoga their spiritual practice.
She lives in New York City with Roxy the Wonderdog. Visit her website at: alannak.com

Frequently Asked Questions
Who is this business builder program right for?
This program is right for anyone who is a yoga teacher, and is interested in making more impact (and more income) in their career. You learn skills to create a strong niche, well-branded message, and bring that message to your unique market...all while maintaining the integrity of the yoga principles you adore. If you think "yoga" and "business" don't go together, this program shows you they do...and, when we align our business with our purpose, we find the keys to our own success.
How long do I have access to the program?
Forever! That's right, once you're in, you're in. You always have access to the materials, and can refer to them, or check back whenever you'd like.
Alanna, what makes you qualified to lead this course?
My background in yoga and spiritual studies spans nearly two decades, and I have been leading teacher trainings for 15 years, have written programs for some of the biggest studios in the industry, and founded the world's first (and only!) 500 hour online yoga certification program. I have written three books on the field of yoga: Myths of the Asanas, Sacred Sound and Yoga Beyond the Mat. Beyond my extensive experience as a yoga educator, I have used the exact tools and techniques I teach you in this program to become a successful yogi entrepreneur. I have spoken at entrepreneurial Mastermind groups and conferences about online marketing, and was named as the "Modern Ontrapreneur" of the year by Ontraport.
Do I need anything special to access the program?
Nope! This course is on an extraordinarily user-friendly platform that you gain direct access to upon registration. You get a unique log-in that allows you access to the course at any time, and from any internet-ready device. The videos do stream, so a good internet connection is recommended.
How much time does this program take?
It really is up to you! You will receive emails daily that guide you through the course. Remember, once you join, you have access to the course materials forever.