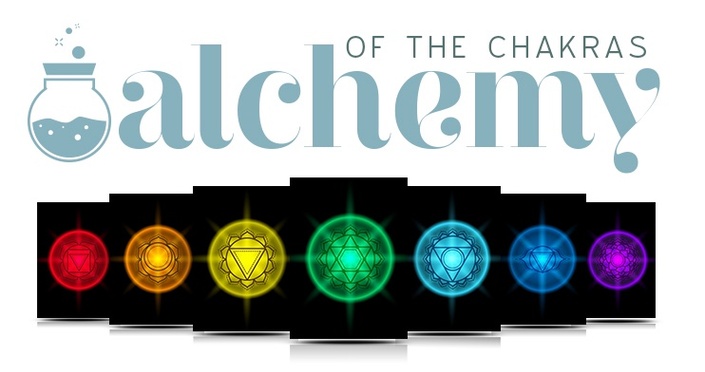 Alchemy of the Chakras Course with Alanna Kaivalya, Ph.D.
Become Certified in Chakra Therapeutics With the Most Comprehensive Course on the Chakras Available Today!
Watch Promo
Enroll now for only $597
Or choose the 3 Month Payment Plan $227/per month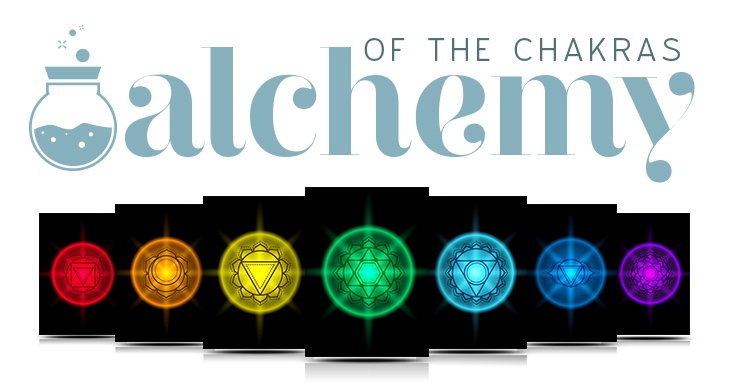 Do you suffer from chronic pain or illness? Have you found that yoga and spiritual practice leave you feeling more aligned and uplifted? Are you interested in having the tools to create balance – inside and outside – all the time?
Enter the chakras: A millennia-old body of wisdom pointing us to the deeper wisdom of the body. We are more than physical beings. Our bodies are expressions of our deeper truths, belief systems, traumas, patterns and past experiences. Everything we have ever been a part of or participated in is stored in our bodies. Like our own walking autobiography, our bodies carry around our story.
What story do you want to tell? And, are you listening to the one that is speaking now?
Our bodies express the truth that we carry inside.
In order to create a different physical expression – one of optimal health and wellbeing – we must consciously create an inner truth that promotes health, balance, and alignment with our highest self. This is more than just "positive thinking," this is a practice that requires inner listening, and the tools of yoga, spirituality, psychology and ritual to create a healthy dialogue between our inner and outer selves.
This is the key to balance. This is the key to our bliss.
This course takes you through this journey and gives you all the tools you need to create personal harmony. In this course you learn:
The anatomy of the subtle (energetic body) and how to clarify your energy channels
How each chakra works on a physical, emotional, psychological and physiological level
Specific practices to balance and work with each chakra
How to identify which of your chakras need extra attention
The means of communication from your body to your psyche, and how to work with it to create a stronger, more transparent dialogue
The root of chronic illness, pain and disease and how to heal the source of the triggers
How to create self-healing on every level – mind, body and spirit
The ancient wisdom of the chakras is honored and updated in this course to include additional techniques such as: psychology, alchemy, ritual, and shamanic practices that create a more modern and holistic approach to ensure optimal wellbeing.
By the end of this seven week program, you possess the tools and the knowledge to create complete inner balance. Say Yes! and discover the health and wellness you have always wanted for yourself.
This program counts as 45 hours of continuing education credits for The Kaivalya Yoga Method. Upon finishing 100% of the course, you receive a certificate of completion.
Or choose the 3 Month Payment Plan $227/per month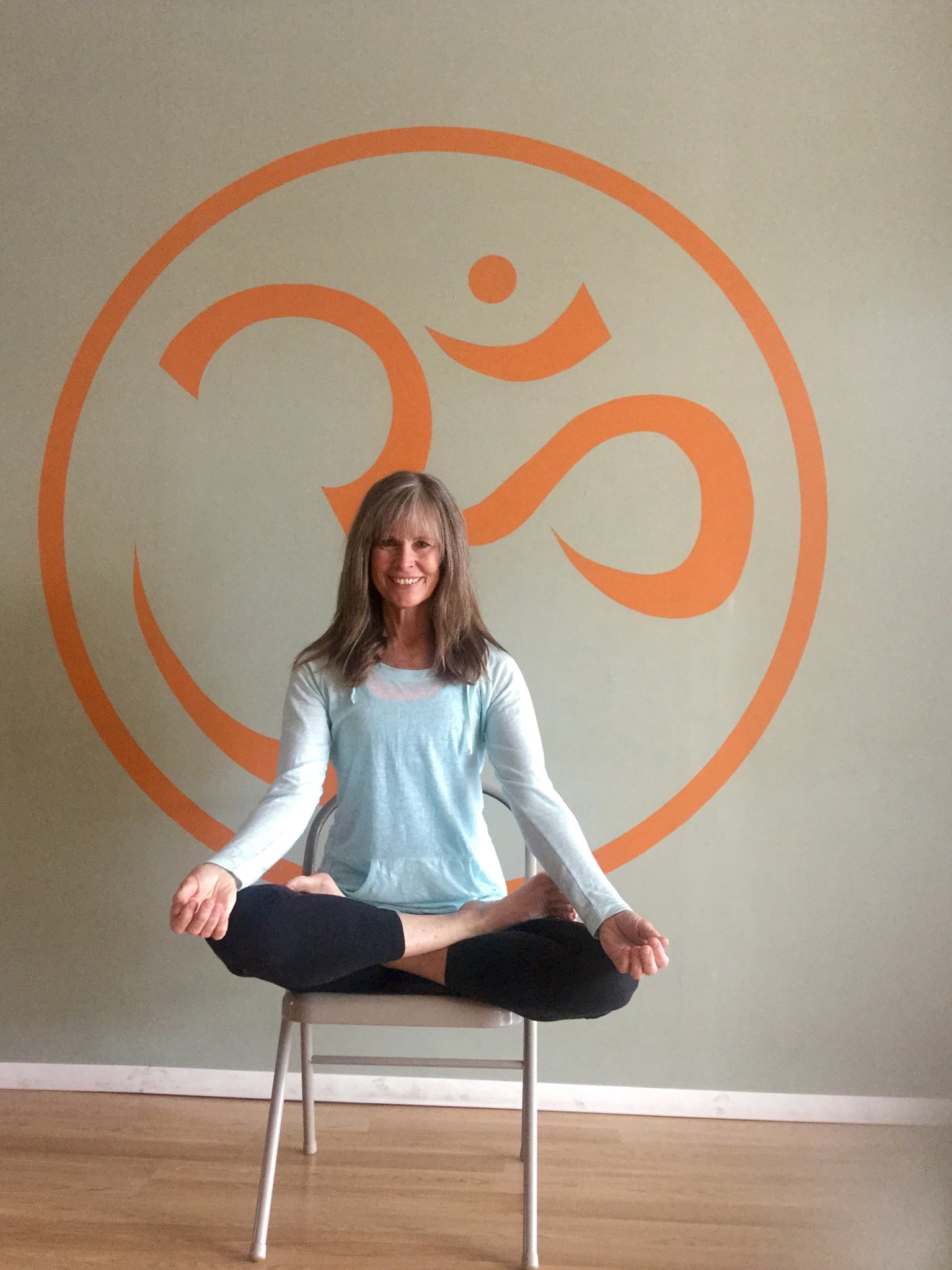 "Taking Alanna's Alchemy of the Chakras course was a most enriching experience. As a yoga teacher and student of yoga, the information I received in this course added a rich dimension to my teaching and personal practice, but most importantly helped deepen my insight into my interpersonal relationships.
This fascinating material is offered in an organized and very digestible fashion through a combination of video, audio and written instruction with a writing exercise which helped me to reflect personally on the impact of what was presented each week.
Alanna's warmth, intelligence and passion for this material is clearly evident. She is very encouraging and responsive to inquiries and comments.
I truly feel I received an invaluable tool that will serve me well both personally and professionally."
– Margaret Johnson BSN RYT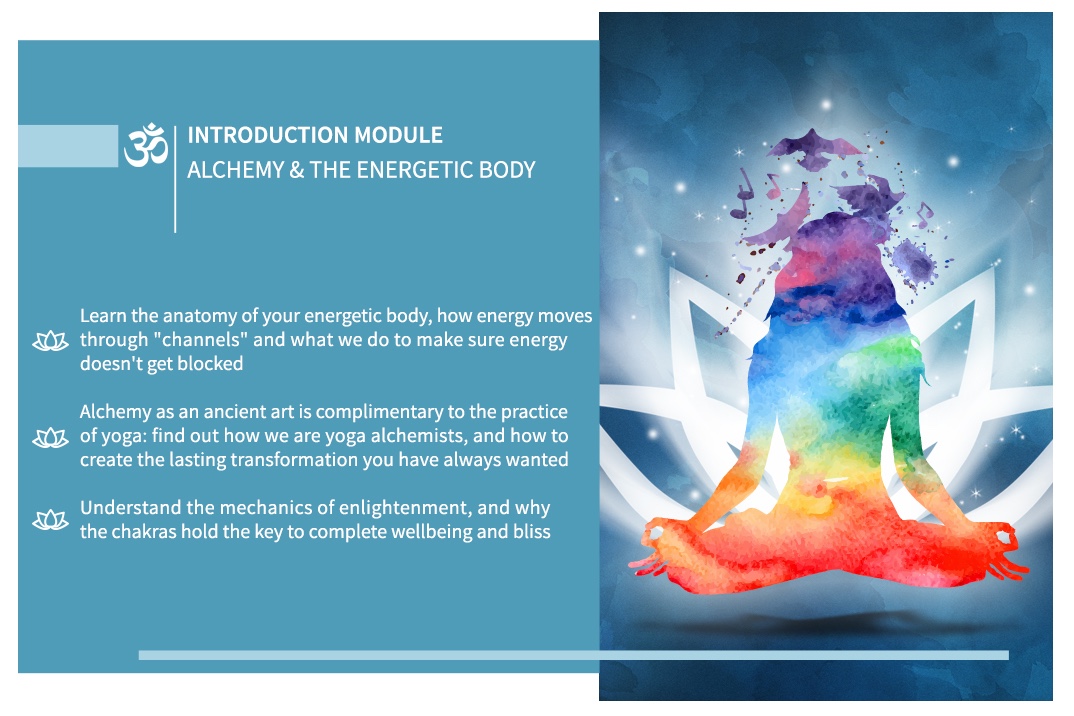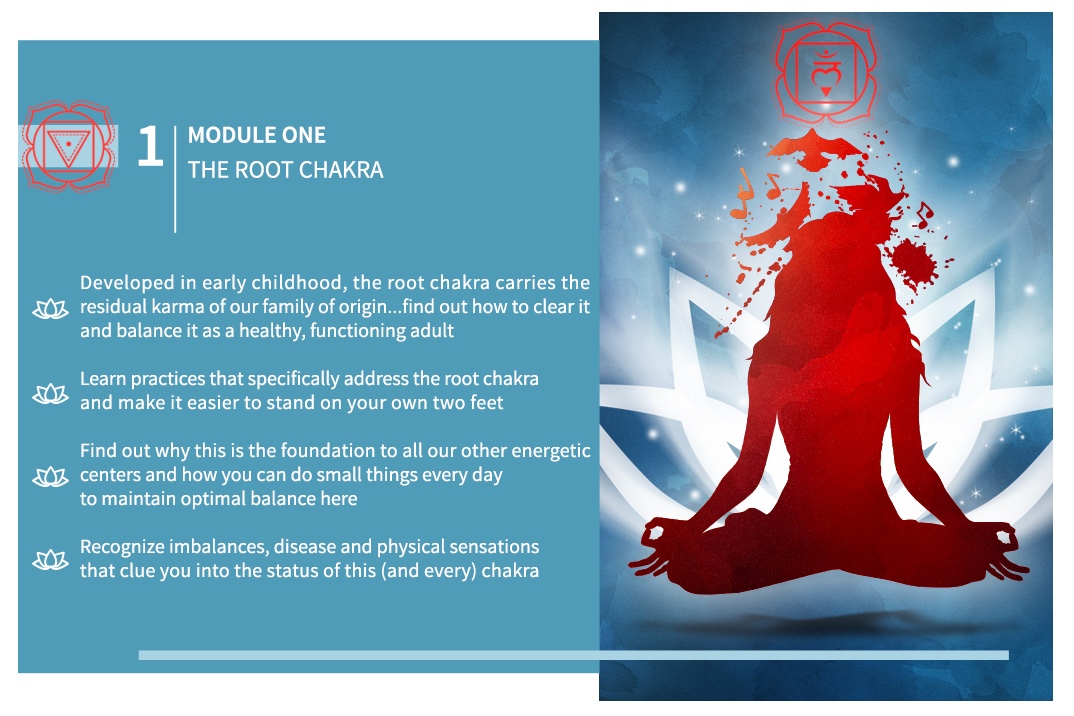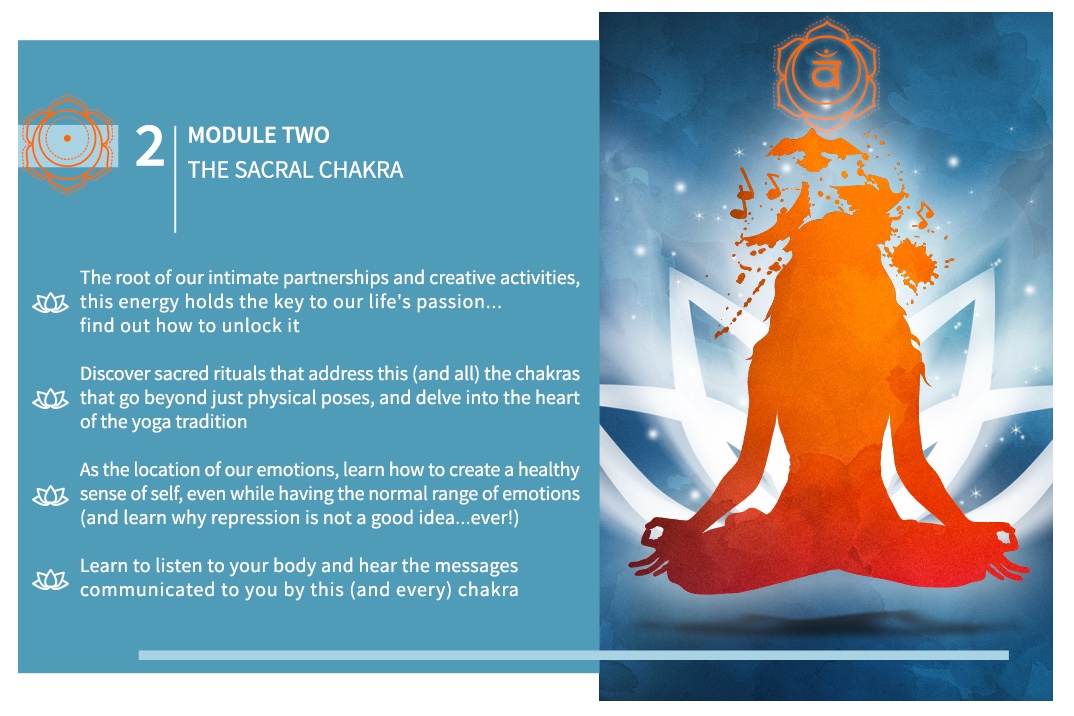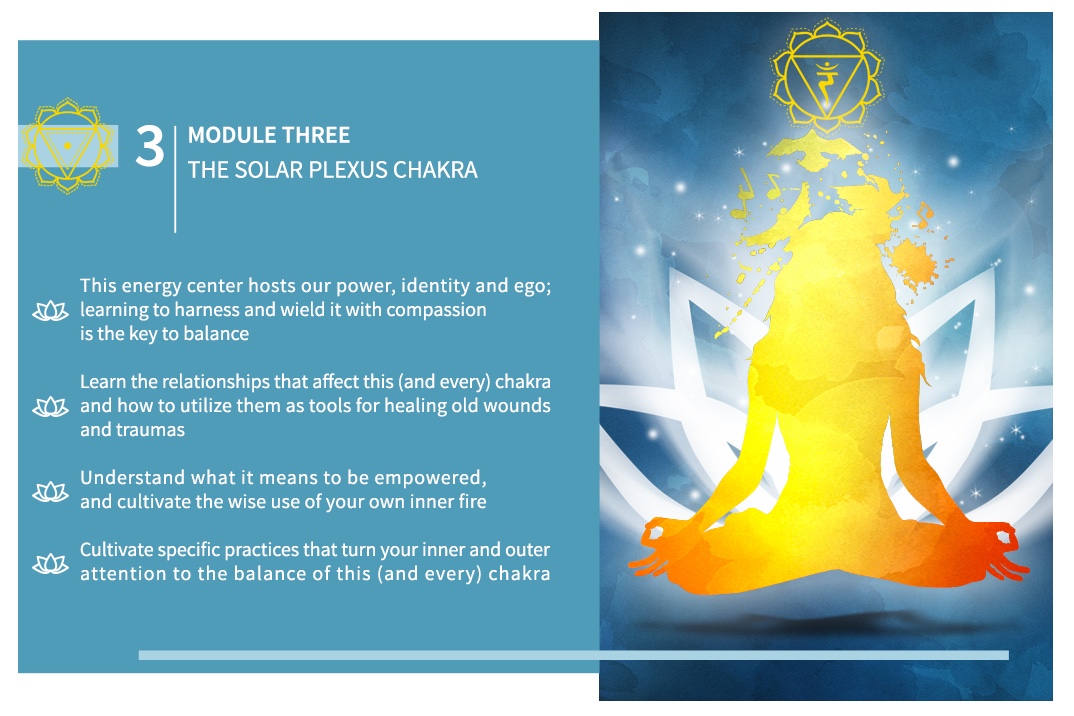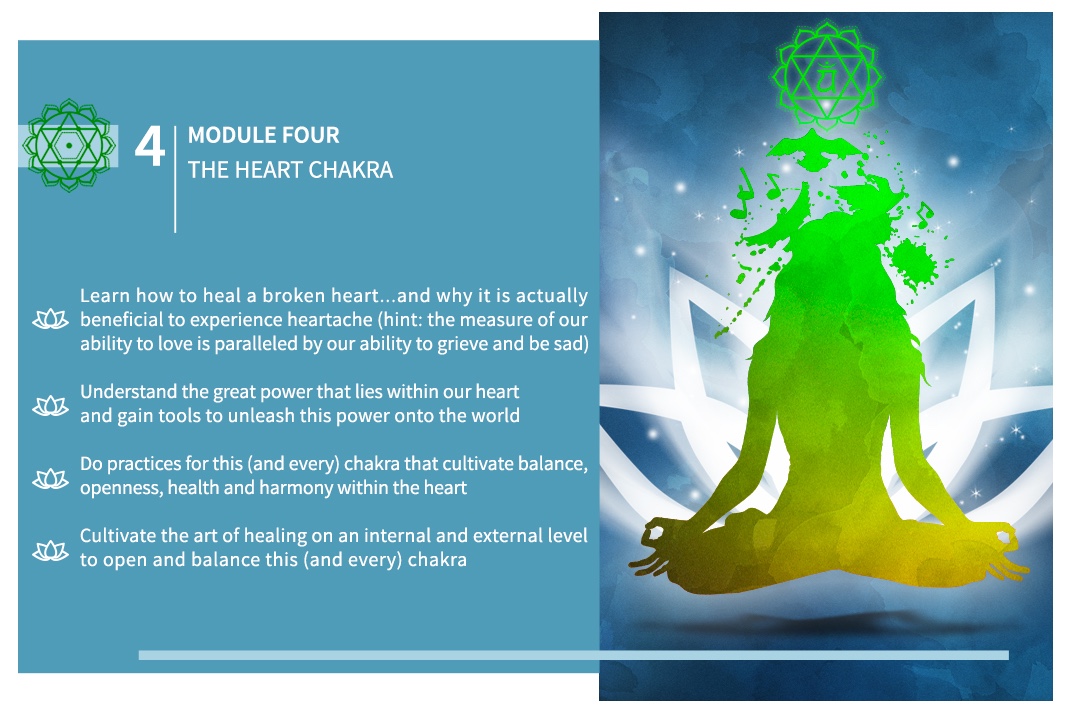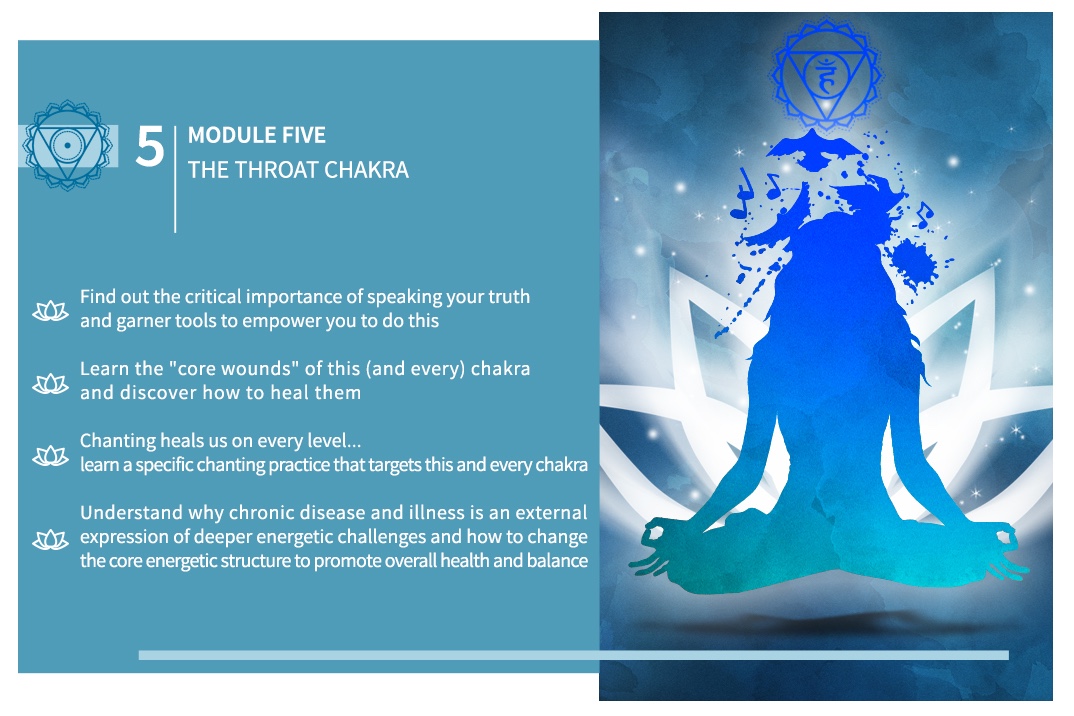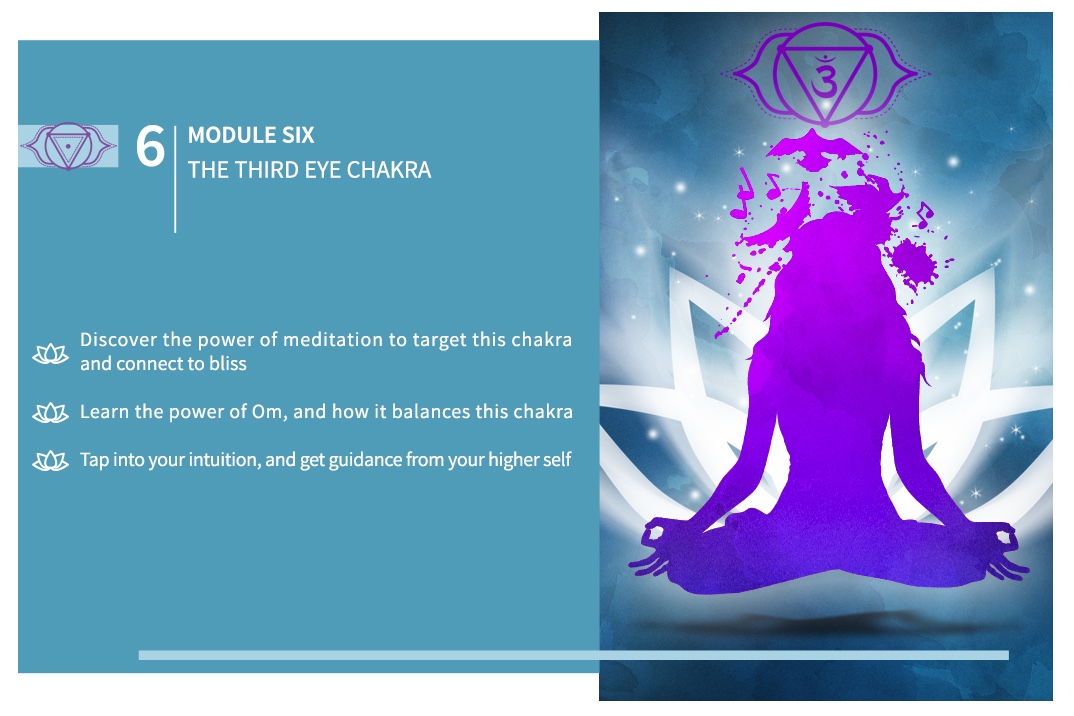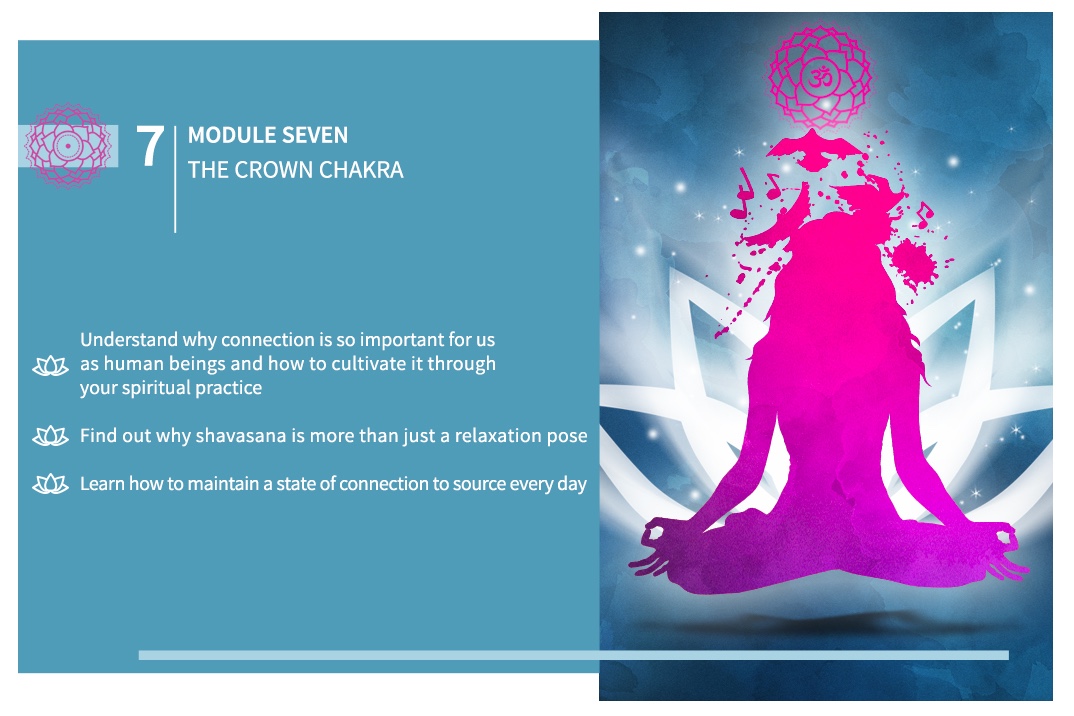 If you are ready to take the journey of the chakras, unlock the doors to higher consciousness, create balance on every level of your being and achieve optimum health and wellness, then this course is for you.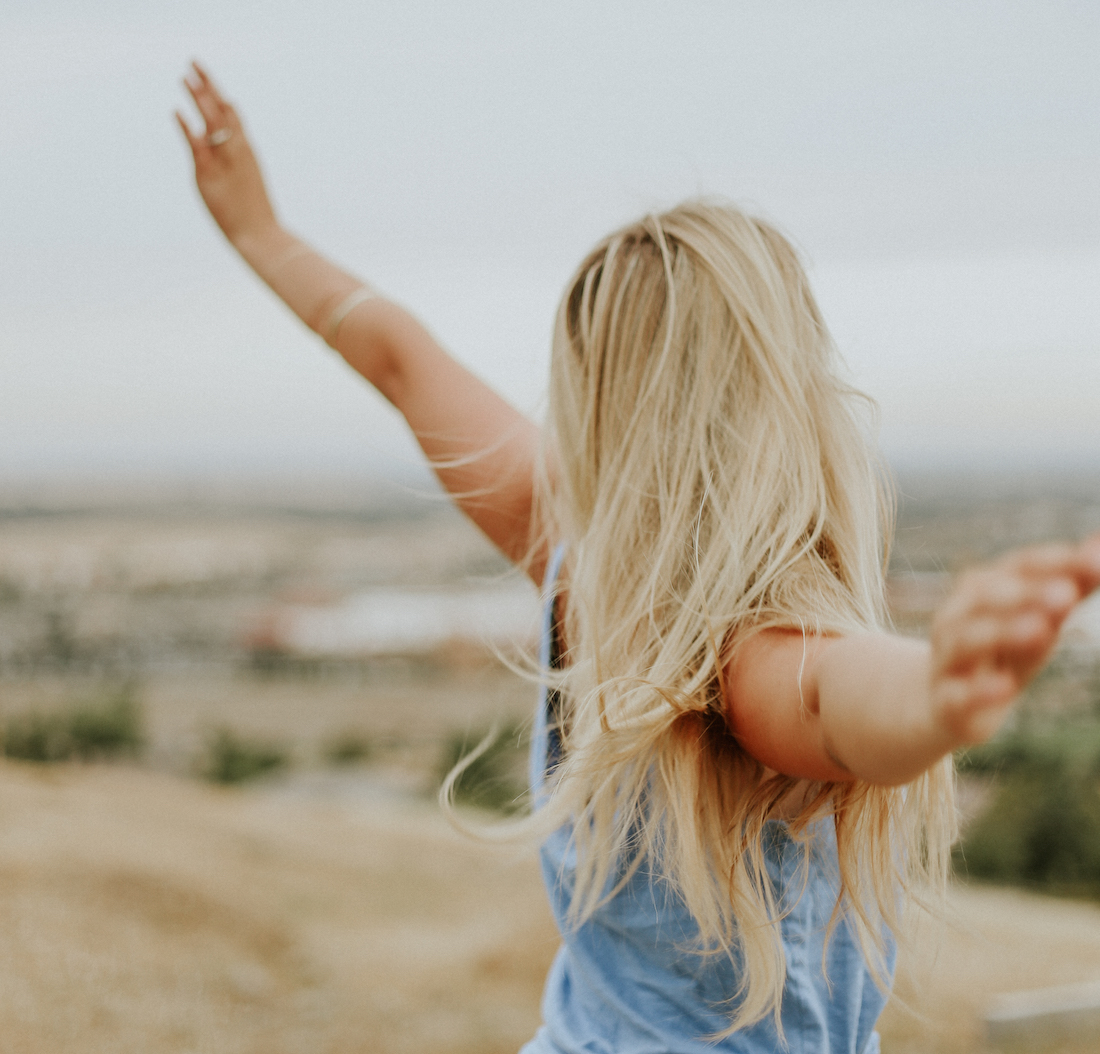 "Your research, understanding, and assimilation of the vast and crucial knowledge is apparent in the written word and rings even more true through your voice. Thank you for making it available and accessible to all.
As I learn, I pass the wisdom of the stories and the practices with my beginning students. I am enjoying the deep and satisfying sips...drinking it all in." — Karen Berdoulay
Or choose the 3 Month Payment Plan $227/per month

Your Instructor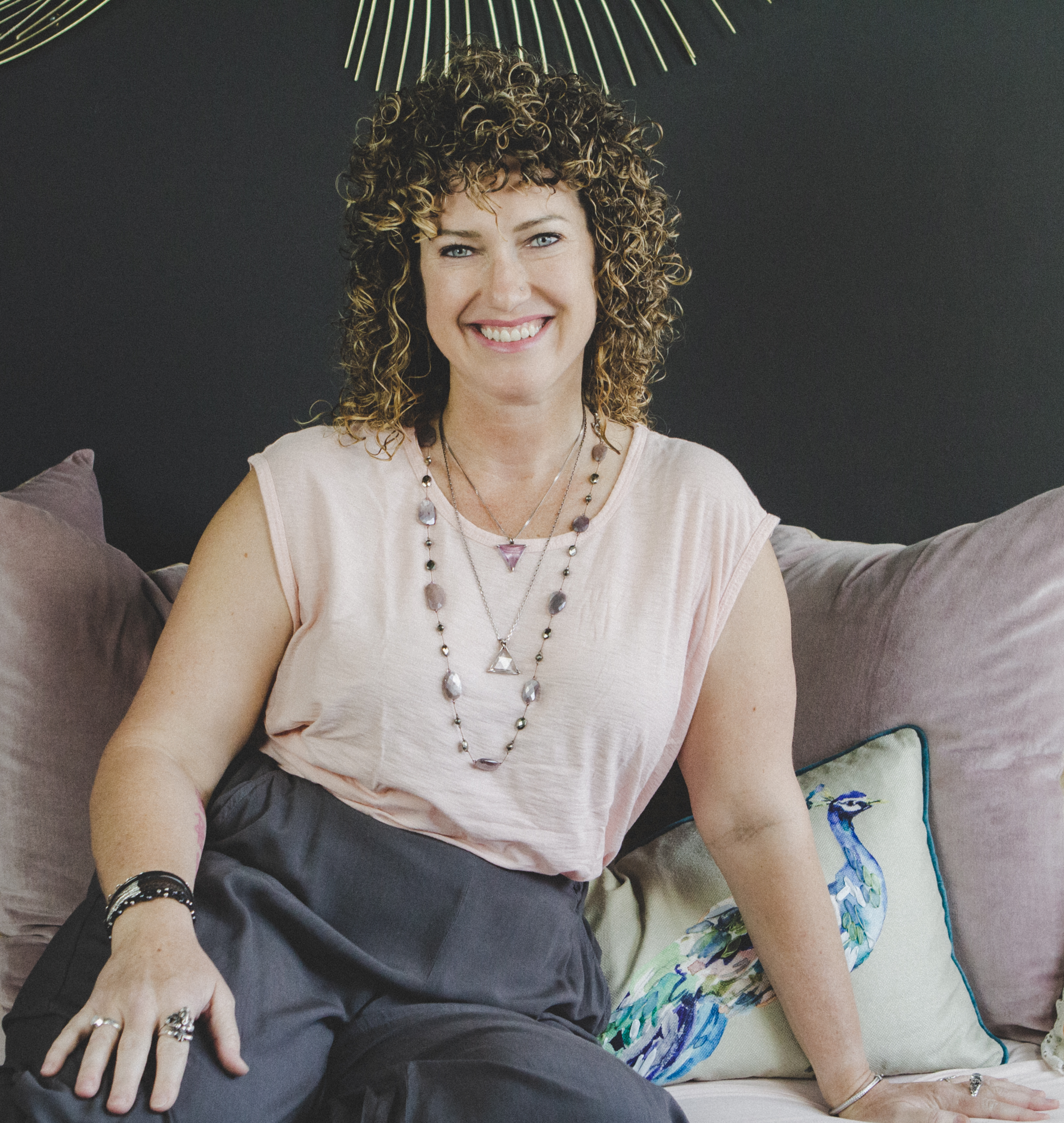 Often referred to as the "Yoga Doctor," Alanna Kaivalya, Ph.D., helps yoga teachers embody their knowledge, up-level their skills and create more impact in the world. She gives you clear pathways to earning a living with your spiritual practice and help others with your gift.

On this principle she founded The Kaivalya Yoga Method®, a fresh take on yoga emphasizing the individual path while honoring tradition. Teaching students since 2001 and teachers since 2003, Alanna has written and developed teacher trainings worldwide for top studios and independently. In 2015, she debuted a comprehensive 500hr-online teacher training.
She holds a Ph.D. in Mythological Studies with an Emphasis in Depth Psychology from Pacifica Graduate Institute, has authored numerous articles and three books: Myths of the Asanas, an accessible practitioner's guide to stories behind beloved poses; Sacred Sound, a yoga "hymnal," illustrating the role of chant and mantra in modern practice. Her third book, Yoga Beyond the Mat, is a guidebook showing practitioners how to make yoga their spiritual practice.
She lives in New York City with Roxy the Wonderdog. Visit her website at: alannak.com.

Course Curriculum
Module One: The Root Chakra
Available in days
days after you enroll
Module Two: The Sacral Chakra
Available in days
days after you enroll
Or choose the 3 Month Payment Plan $227/per month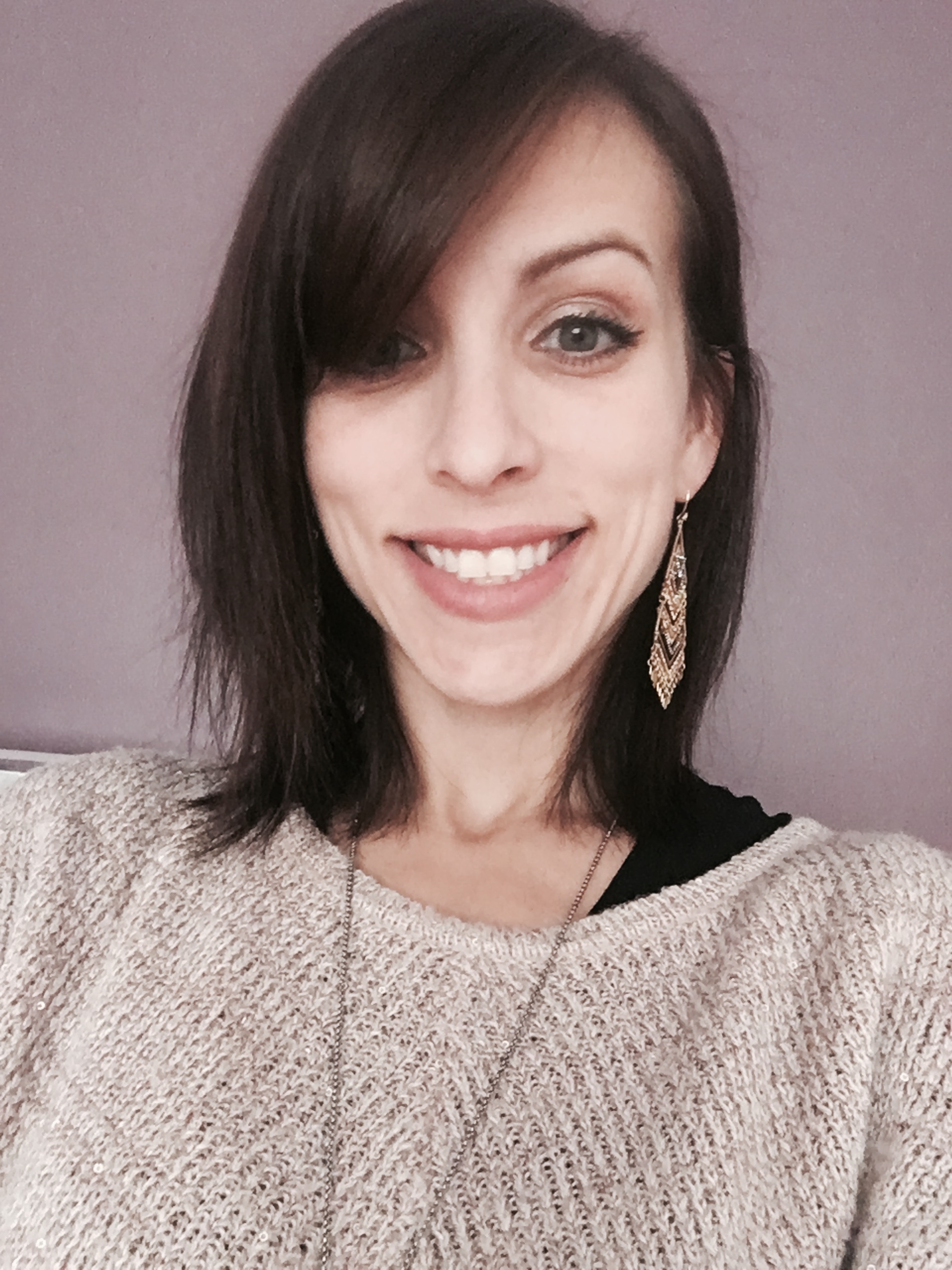 "I came into this course, The Alchemy of the Chakras, with an unquenchable thirst for knowledge and the desire for Alanna Kaivalya to play more of a role in my journey. I would like to think that my always strong sense of intuition was simply leading me to something great even though I myself did not fully understand why. What I gained from this course far surpassed whatever expectations I held going into it as it became abundantly clear that I was not simply learning about the chakras. Yes of course that was part of it, however this course went so much deeper than that as I learned about how each chakra affects me on a personal level. Encouraged to take my gaze within, encouraged to go deep, and given the chakras as my guide, thus I started down the path.
Alanna has the course laid out as 7 modules, one for each energy center. Each module was brilliantly constructed, unfolding as though a story, and within each story, I was presented with a multi-faceted look into that particular chakra. Dr. Kaivalya's language was beautiful, eloquent, thought-provoking, even poetic at times as she introduced me to unfamiliar territory, yet in a fully loving and supportive way. With the full spectrum approach she provided into each chakra, I was given a multitude of ways in which to tap into each one. Whether it was igniting it through a guided chakrasana practice, invoking it through the presiding planet, sending focused energy to it through the performance of a ritual, or simply chanting a Bija mantra, I had every possible tool at my disposal.
For as much information as I was given, it was done in such an approachable way: clear, easily understood, accessible, and overall just allowing for a smooth incorporation into the knowledge base I already have of the chakras and moreover the knowledge base I have of my own self. I found that integrating everything into my own practice and into my own teaching was really quite natural, and I fully credit Dr. Kaivalya with creating the perfect environment in which to absorb the material.The final (and quite possibly best) aspect to The Alchemy of the Chakras course is that it is lead by a teacher who speaks with such passion, authenticy, sincerity, wisdom, and grace that I know I want to follow her guidance."
– Jenny Wolff
Frequently Asked Questions
Who is this course right for?
This course is right for anyone who has an interest in yoga and a desire to do the work required for healing. If taking a look at the innate wisdom of the body inspires you, this course brings it home and makes it an active experience for you. If you love yoga and want to know more about how to live your yoga practice and take it beyond the mat, this is for you. If you need support in being empowered to explore your practice, this course does that. And, honestly? If you need hand holding and a structure for diving into the spiritual practice of yoga, this online experience is perfect.
How long do I have access to the course?
Forever! That's right, once you're in, you're in. You always have access to the materials, and can refer to them, or check back whenever you'd like. You also will be privy to any additions or enhancements to the course as I continue to build upon it in the future.
Does this course give me credit towards The Kaivalya Yoga Method teacher training?
The Alchemy of the Chakras program counts as 45 hours of continuing education credits for The Kaivalya Yoga Method® teacher certification. Upon finishing 100% of the course, you receive a certificate of completion.
Can learning about the chakras through this course really "heal" me?
Yes. Healing occurs on a variety of levels. What this course teaches you is how to dig deeply and inspire balance and change on the deepest levels. The extent of how much healing takes place within your body is truly up to you. Most people try to heal their body from the outside – through physical means like rehabilitation, medication or therapy. All those modalities are good an appropriate. What you find in this course is a different angle; and approach to healing that works from the inside out. We look to the subtle patterns and habits entrained by the body for clues on what we can release and work through via yoga to create a different level of wellness. It is possible for this to inspire greater wellness on the more physical layers of our body, too. Some things cannot be changed, physically...but we can learn to embody everything as part of our healing and spiritual journey. This course encourages you to do just that.
Are there payment plans?
Yes! I know how hard it is to shell out a chunk of dough, and I want to make this possible for you. You have the option to pay in full for a slightly reduced price, or make a payment in monthly instalments. Both of these options are available to you upon checkout.
Are you dripping content?
Indeed! I'm excited about this method of delivery because it allows us to go through the course together. Upon your registration, you get access to Module #1, and then each week thereafter, you receive the next modules. Once the next modules are unlocked, you have access to all the previous modules, too. No worries if you fall behind, or need to go at your own pace, this system allows you to do that, too.
Alanna, what makes you qualified to lead this course?
My background in yoga and spiritual studies spans nearly two decades, and I have been leading teacher trainings for 15 years. I have written three books on the field of yoga: Myths of the Asanas, Sacred Sound and Yoga Beyond the Mat. I also have a Ph.D. focused on this material and my expertise includes mythology, alchemy, depth psychology and yoga. I integrate all these into my understanding of yoga to develop a complete, integrative approach that brings the ancient practice into modern life. Really, though, the thing that qualifies me the most is the extensive amount of trial and error I have been through in my own personal practice over the years. I'd like to save you the time and effort and help you create immediate tools for lasting spiritual connection and transformation...right now.
Do I need anything special to access the course?
Nope! This course is on an extraordinarily user-friendly platform that you gain direct access to upon registration. You get a unique log-in that allows you access to the course at any time, and from any internet-ready device. The videos do stream, so a good internet connection is recommended.
How much time does this course take?
It really is up to you! If you plan to keep up with the pace of the 7 week program, then it's a good idea to commit 5-7 hours per week to the course. There is plenty of information in this course, so you are certainly able to spend more time with the material, and also gain support via the Facebook group. Remember, once you opt in, you have access to the course materials forever. Don't worry if you fall a little behind!
Is there a money back guarantee?
We want you to be happy with your purchase, and we want you to give your best effort to apply all of the techniques and lessons in the course(s). We have a strict 14-day refund period for course purchases that exceed $200 total. Refunds are NOT given for courses priced under $200. Please note, to qualify for a refund you must submit proof that you did the work in the course and why it did not work for you. We do not offer refunds for any other reason. If you selected a payment plan option for your purchase, we are not able to stop payments without a proper refund request being submitted. In the event that you discover your purchase does not work for you for a concrete reason, within 14 days of enrollment, contact support at
[email protected]
and request a refund by the 14th day at 11:59 EST. For all the details of the refund/return policy, please see the Terms of Use: https://courses.alannak.com/p/terms
How long do I have to buy?
This course is only available at certain times per year, and when it is offered, the limited time is specified on emails and marketing materials. If you are interested in taking this course, make sure you take advantage of an opportunity to register when it becomes available...because the next opportunity won't come around for a while!
When does the course start and finish?
The course starts now and never ends! It is a completely self-paced online course - you decide when you start and when you finish.
Begin the journey of a lifetime.
Access the wisdom of the chakras today!
Or choose the 3 Month Payment Plan $227/per month